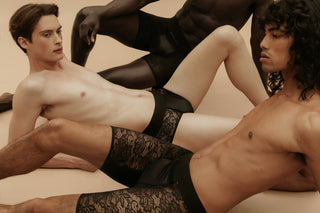 PURE ROMANCE
The "Rose Signature Edition" core lace collection
Combining lamb skin leather with our signature fits. Each piece has been crafted to accentuate the MASCULINE FORM.
"Sexy Lingerie for Men Is Here."
"Lingerie isn't just for the ladies anymore."
"Men's lingerie is having a moment."
"Yep, there's officially Lingerie for men."
"This Brand Is Making Dude Lingerie — & It's Gorgeous."
"They're now making sexy lingerie designed for MEN to wear too."
"At Long Last, Lingerie For Men Now Exists."
"They're making lingerie for dudes now"